Autumn & Winter 2021 It-bag report
Fashion Month is in full swing, and while the catwalks are looking ahead to 2022, street style is all about A/W '21 right now. We've been trend spotting and have put together a list of this season's most coveted It-bags in case you're looking for the perfect cherry on top of that Fashion Week outfit, or just a fabulous handbag to carry into the colder months. 
The Fendi First
If there's one handbag that has the potential to be the cult hit of Autumn/Winter 2021-22, it's the Fendi First. The bag made its debut at Fendi's A/W21 ready-to-wear collection earlier this year under the new creative direction of Kim Jones, and has already been seen on celebrities like Jennifer Lopez, Rita Ora and Priyanka Chopra Jonas. Geometrically shaped, with an unstructured pouch form and an F-shaped clasp, the First is like every trend of the past couple of years rolled into one stylish package. 
                                               Photo: fendi.com
Managing to be luxurious and effortless at the same time, the bag is offered in medium, small, and the ever trendy nano, and can be worn as a clutch, with a crossbody chain or with an over the shoulder leather strap. It comes in several great neutral leather and python hues, as well as in mink, sheepskin, and wool finishes for autumn. 
                                                       Photo: hypebae.com
                              Photo: purseblog.com
The Dior Caro
Launched by the fashion house at the start of 2021, the Caro - named after the nickname for Christian Dior's sister Catherine - has been quietly growing its It-bag status and can be seen everywhere this autumn. Clad in the brand's statement Cannage motif requiring over 18,000 stitches by Dior's artisans in Italy, the bag sports the iconic CD clasp and has a removable chain link shoulder strap, which can be swapped for the brand's more traditional fabric straps. The incredibly versatile design comes in small, medium, large and even micro, as well as a number of other versions, such as a belt pouch and a cardholder. 
                                                  Photo: purseblog.com
                              Photo: paledivision.com
The classic silhouette and instantly recognisable Dior codes mean that the bag will easily stand the test of time, but incorporating current trends like the thick chain link makes it modern and very 2021. The latest collection comes in a number of cool colours and materials for the season, such as indigo blue lambskin and grey shearling. Find the matching Bagpads here.
                                                              Photo: dior.com
The Chanel Flap with Top Handle
This season's Chanel Flap with Top Handle is very similar to the Coco Handle that was first introduced by Chanel as part of its Pre-Fall/Winter 2015 collection. It is essentially the same as the Classic Flap bag with an added top handle. The new hype is about the iridescent finish, the most popular being white, pink, blue and purple.
                                                             Photo: fashionphile.com
                                                            Photo: chanel.com
                                               Photo: dearluxe.com
The Chanel Classic Flap is undoubtedly a classic that will never go out of style, with its current popularity lending it a modern edge and showing just how well Chanel is at creating truly timeless handbags. The bag is available in different sizes and can be found in a variety of different finishes in-store and on luxury resale sites. 
                                           Photo: @mrs.miyagi_au
.
                         Photo: raindropsofsapphire.com
The Row Everyday shoulder bag
Is there any brand that does understated cult fashion better than Mary-Kate and Ashley Olsen's The Row? A staple of street style and celebrity fashion, The Row is known for its clean lines and subtle designs, every piece exuding "less is more" chic. The Row pieces always come with little fanfare, but for those in the know, this season's favourite is the Everyday leather shoulder bag. 
                                                         Photo: therow.com
With a half moon silhouette and slouchy and spacious shape, it's a carryall hobo that ticks all of this year's trends - but we can guarantee it will still be in for many years to come. Impeccably made, the brand's enduring aesthetic ensures that older styles simply become more coveted as they age. The Everyday is made in grained calfskin leather with suede lining and comes in a small, medium and standard size. In true The Row fashion, the colours are muted neutrals such as black, brown and cream. 
.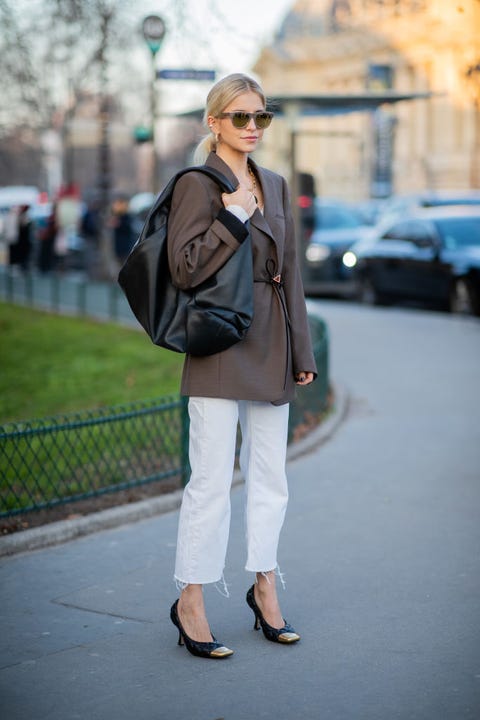 Photo: elle.com
Bagpads for Autumn & Winter 2021
If you're investing in a new designer handbag for the season, a Bagpad is the perfect accessory to ensure you're taking care of your purchase from the very start. A long-term and elegant solution for keeping your bags in shape between uses, our Bagpads are specially designed for a range of luxury brands and can also be made bespoke for any shape and size. 
.
.