Everything you need to know about the Hermès Kelly
Although the Hermès Birkin may have more instant name recognition today, the Kelly is actually the more classic of the two Hermès bags. While the Birkin was created in 1984 as a new, modern statement from the traditional fashion house, the Kelly dates back to 1935.  
.
Photo: designer-vintage.com
The bag was originally introduced under the name Sac à Dépêches by Robert Dumas, Émile Hermès' son-in-law, as an updated, more glamorous version of a bag Hermès created for his wife Julie. Its main defining characteristics are a trapezoid shape, a single top handle, a cutout flap and an optional shoulder strap. It's made out of 36 leather pieces by Hermès craftsmen and uses around 680 hand stitches.
In 1955, renowned stylist and costume designer Edith Head ordered a Sac à Dépêche for Grace Kelly to wear in the Alfred Hitchcock film To Catch A Thief. Grace Kelly loved the bag so much that she bought several of her own, and was later photographed carrying it in front of her stomach to hide her pregnancy from the paparazzi. The handbag's popularity skyrocketed, and many started calling it the Grace Kelly bag - leading to Hèrmes officially renaming it after the iconic actress in 1977. 
                    Photo: celebremagazine.com
The Kelly is still one of Hermès' most coveted handbag designs, and like the Birkin, is a true investment piece. We've put together everything you need to know about different Kelly bags, where to buy one, and how to keep yours in perfect condition.
Sellier vs Retourne
The bag can be found in two styles: Sellier and Retourne. The main way to tell the difference between the two is by looking at the bag's edges. 
.
                                              Photo: pursebop.com
Sellier has visible stitching and pointed out corners, giving the bag a more formal, structured silhouette. This style usually comes in rigid leathers, enhancing the ladylike, geometrical look. 
The Retourne has stitching on the inside and a piping trim instead, giving it softer corners and a more casual air. This style usually comes in softer leathers, which allows for more space inside the bag. 
There is also the Sellier Mou, which is a mix between the two and quite rare. These bags have the Sellier stitching but are made in supple leathers like the Retourne. 
Sizes
Hermès has made Kelly bags in lots of different sizes over the years, from 15 to 50 cm, which refers to the width of its base.
It's currently available in 8 sizes: 
Kelly 15 - 15 x 11 x 5 cm
Kelly 20 - 20 x 16 x 10 cm
Kelly 25 - 25 x 19 x 9 cm 
Kelly 28 - 28 x 22 x 10 cm
Kelly 32 - 32 x 23 x 10.5 cm
Kelly 35 - 35 x 24 x 12 cm
Kelly 40 - 40 x 28 x 16 cm
Kelly 50 - 50 x 34 x 25 cm
The Kelly 15 and 20 are minis, whereas the 40 and 50 are considered travel bags. The most popular sizes for everyday use are the 25 and 28, as they're big enough to fit essentials but small enough to easily be worn in the evening or crossbody.
Photo: @mightychic
Kelly clutch bag sizes:  
Kelly Cut - 31 x 13 x 2.5 cm
Kelly Longue - 28 x 16 x 4 cm
Kelly Pochette - 22 x 14 x 7 cm
The Kelly Cut, Longue and Pochette are smaller clutch bags and were introduced by Jean-Paul Gaultier as his interpretation of the classic Kelly bag.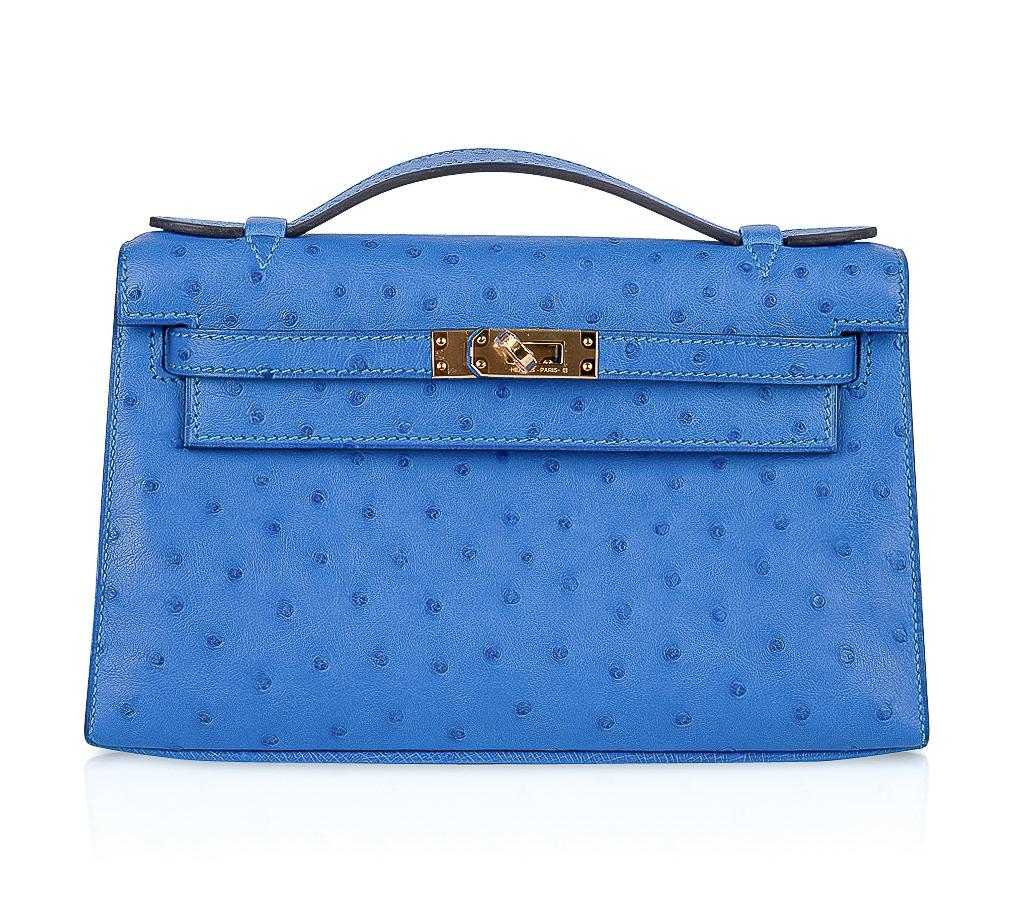 Photo: 1stdibs.co.uk
Kelly Lakis bag sizes:
Kelly Lakis 28 - 28 x 20 x 11 cm
Kelly Lakis 32 - 32 x 20 x 11 cm
Kelly Lakis 35 - 35 x 25 x 13 cm
The Kelly Lakis, first introduced in 2006, is perhaps a less known, but sportier version of the Kelly bag. It's easy to spot by it's two zipped front pockets and large zipped pocket across the back. Often worn with a wider canvas strap.
Photo: openforvintage.com
Other Kelly bag sizes:
Kelly Danse - 22 x 17 x 6 cm
So Kelly 22 - 22 x 30 x 11 cm
So Kelly 26 - 26 x 35 x 13 cm
Kelly Ado Small - 22 x 23 x 9 cm
Kelly Ado Large - 26 x 32 x 11 cm
Kelly Ado II - 22 x 23 x 9 cm
.The Kelly Danse, also designed by Jean-Paul Gaultier in 2008, can be used as a belt bag, a shoulder bag, a crossbody bag, and a backpack.

                                                                 Photo: rebelle.com      
.
The So Kelly bags, yet again introduced in 2008, are a bucket bag version of the Kelly bag, which can be worn as a shoulder bag or messenger bag. 
Photo: collectorsquare.com
.
The Kelly Ado, a backpack version of the Kelly bag, was first introduced by Rena Dumas in 1996. It came in two versions: a larger one with top handle and a smaller one without. It was discontinued but then reintroduced in 2018 as the Kelly Ado II.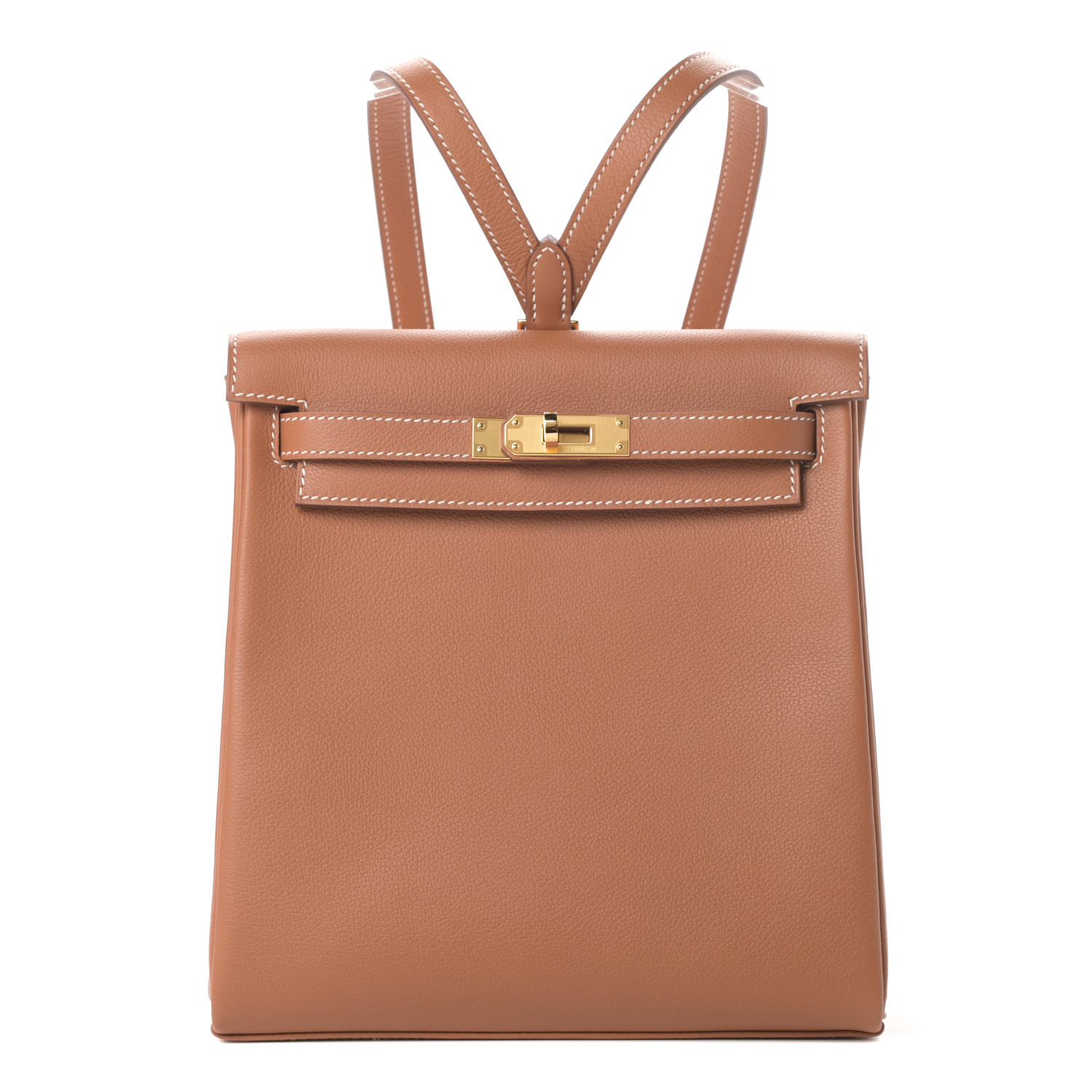 Photo: fashionphile.com        
 .
Leathers and skins
Hermès uses a huge array of materials and colours for their products, the Kelly included, meaning there are countless variations of the handbag on the market. This means doing your research on the types of leathers and skins available and which ones you personally like the most is essential. 
Photo: vogue.es 
.
Some of the most popular leathers used for the Kelly include: 
Box Calf: This is the oldest type of leather used in Hermès handbags, present in many vintage Kellys and the material it was first introduced in. It's a stiffer leather with a smooth finish, and is more susceptible to scratches and watermarks. 
Photo: christies.com
Clemence: One of Hermès most popular leathers. It's made from baby bull and is matte, flat-grained and slouchy. It's extremely scratch-resistant, but can blister when exposed to water. 
Photo: christies.com
Epsom: A lightweight embossed leather that holds its shape well. It's scratch and water resistant, and very easy to clean.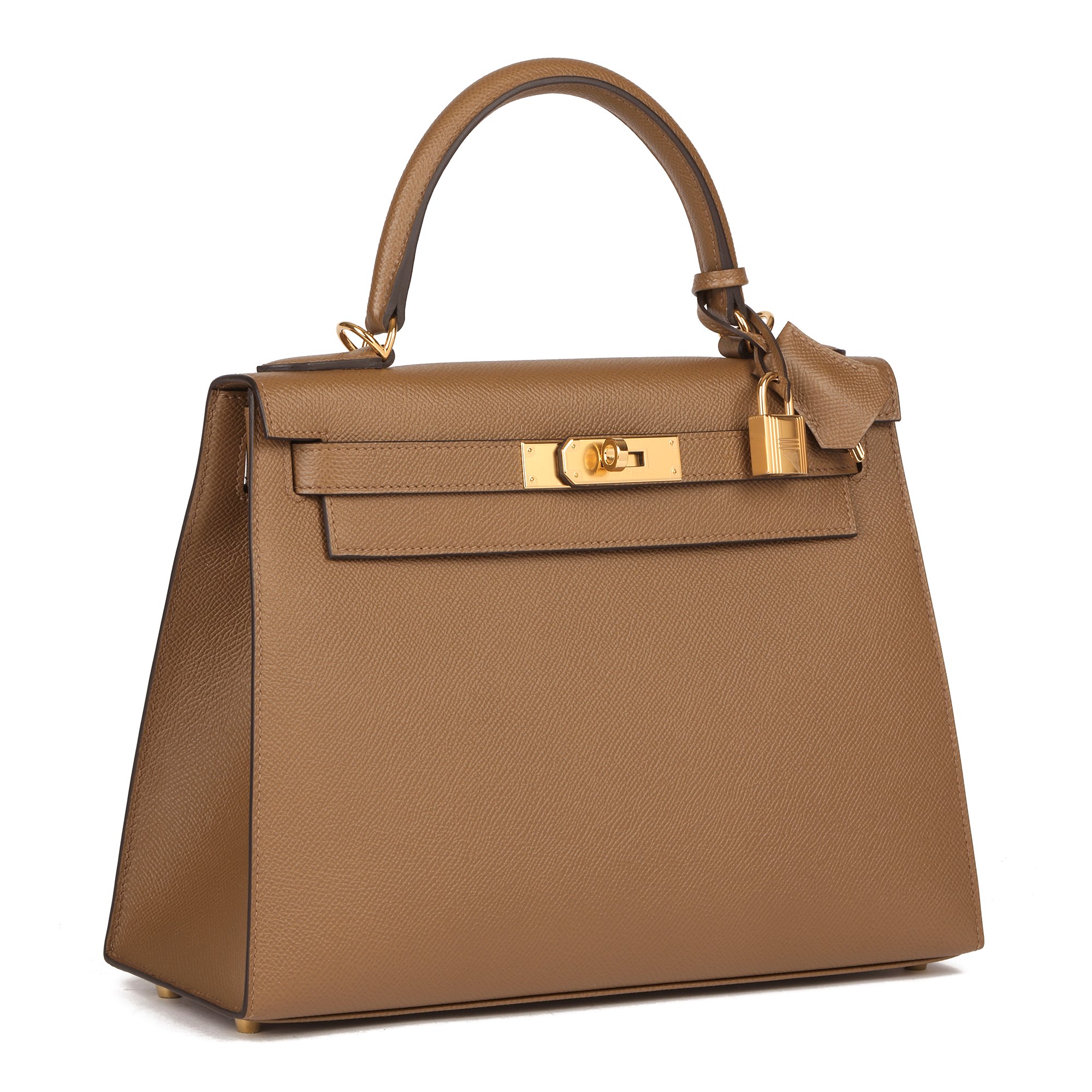 Photo: xupes.com
Fjord: An adult calf leather with a flatter and wider grain that is very soft to the touch. It's scratch and water resistant, but slightly heavier than other leathers.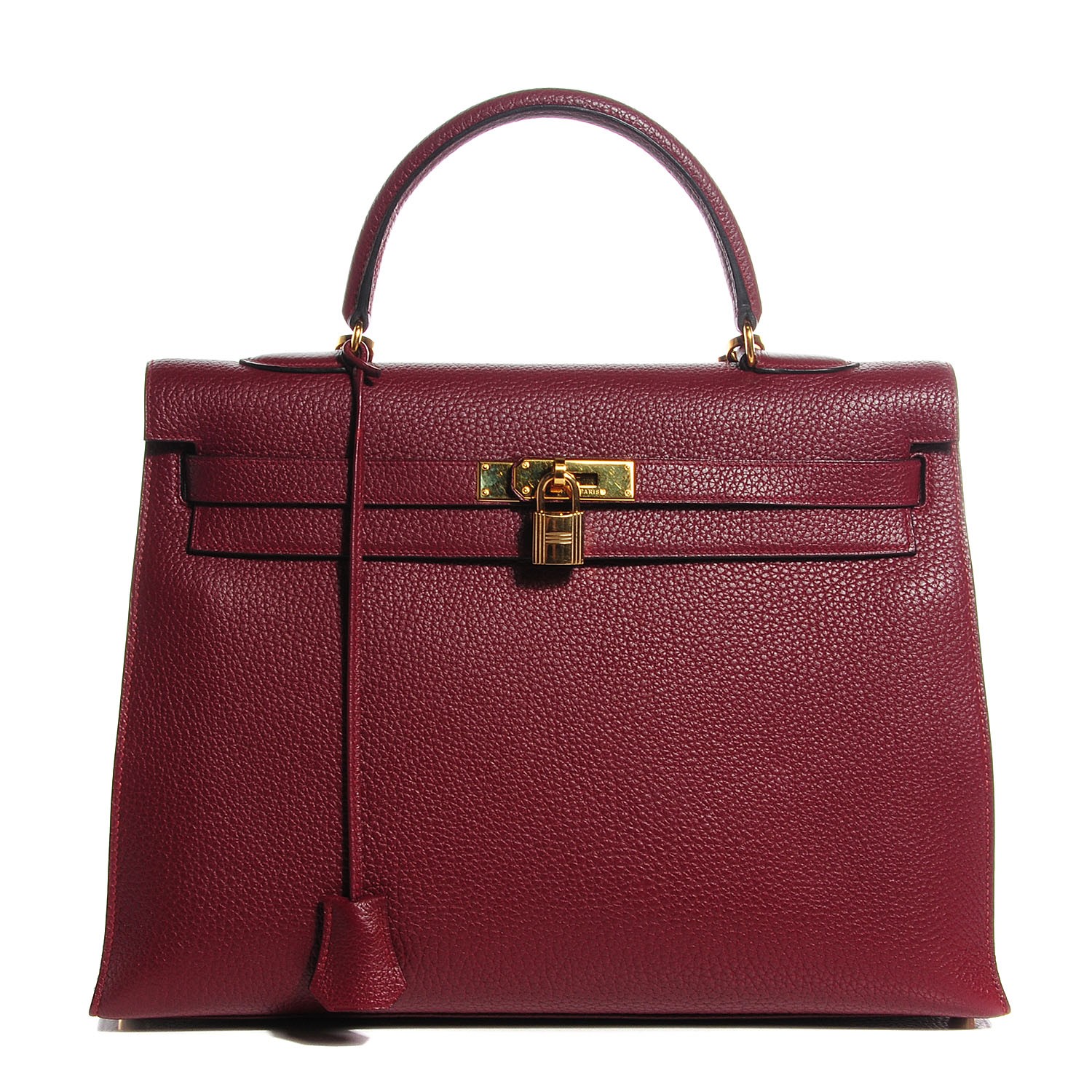 Photo: fashionphile.com
.
Swift: Previously known as Gulliver, this is a very soft leather with a fine grain that is particularly suited for bright colours. It scratches easily, but small ones can often be buffed out. 
 Photo: sothebys.com
Togo: Togo leather is the one most commonly seen on Birkins. It's a lightweight leather made from baby calf with a soft, pebbled finish. It holds its shape relatively well and is scratch and water resistant. 
Photo: bagsofluxury.com
Chevre de Coromandel: A durable, lightweight, goat hide leather with a smooth finish and soft texture, this is one of Hermès' best leathers for everyday use. It's both scratch and water resistant, making it practical as well as luxurious.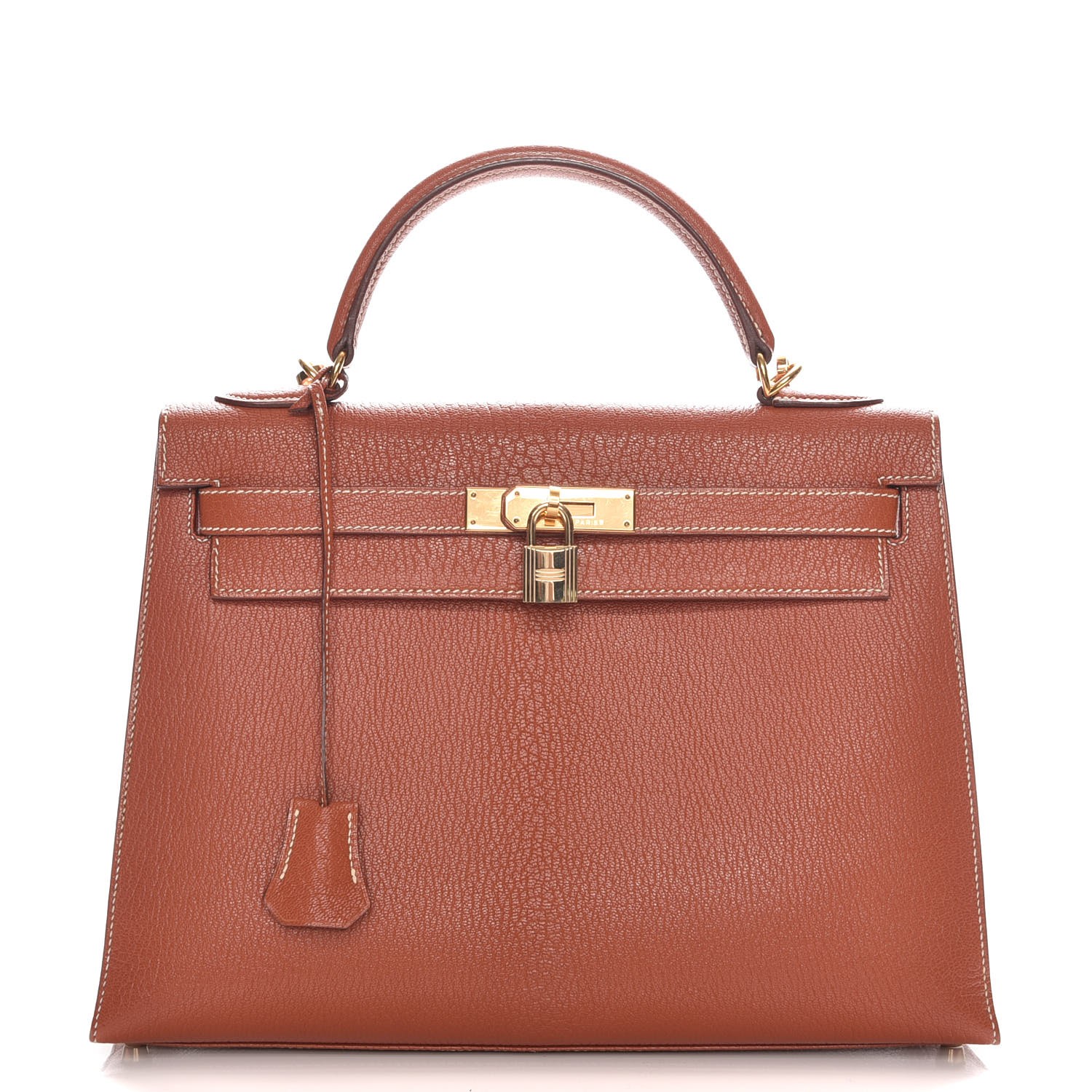 Photo: fashionphile.com
Doblis Suede: A traditional suede leather with a napped and smooth finish. Scratches can usually be buffed out, but the material should be kept away from water.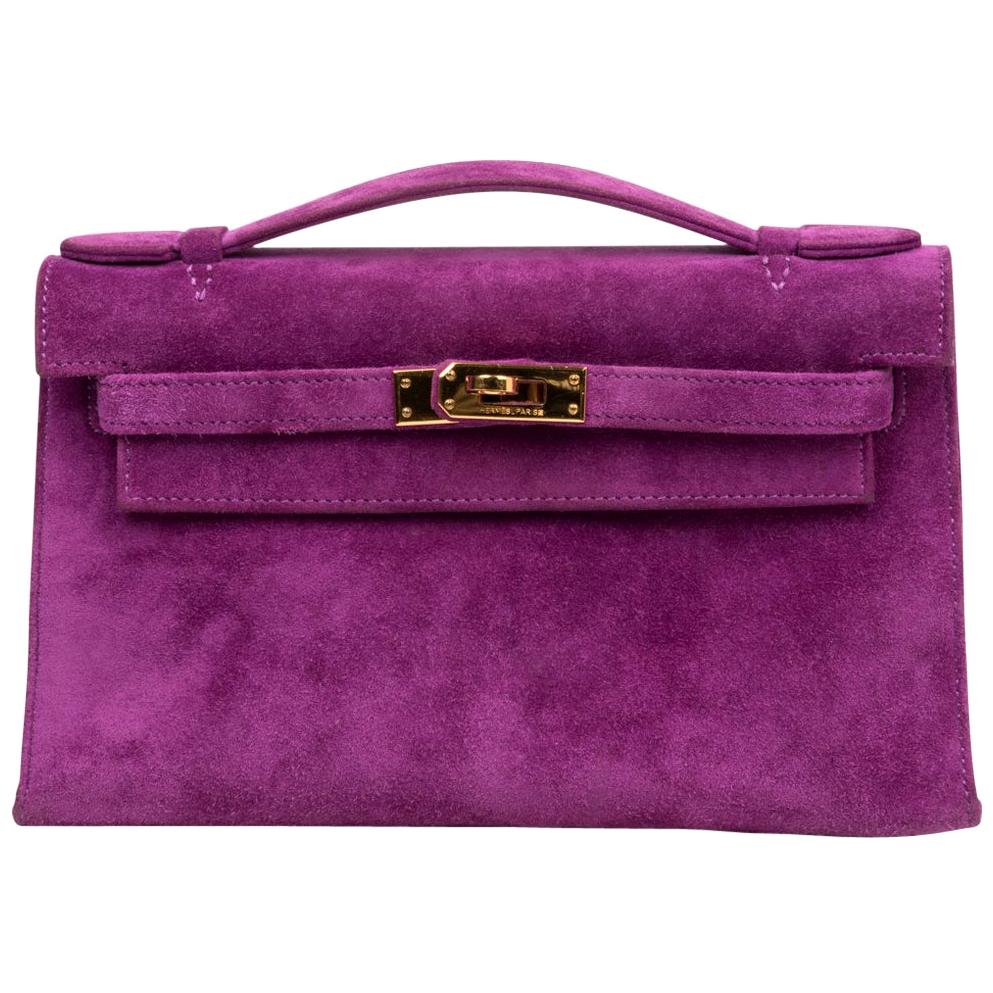 Photo: 1stdibs.co.uk
Hermès also makes Kellys in a number of exotic skins like Ostrich, Alligator, Crocodile and Lizard in varying degrees of rarity, which are often sensitive to scratches, water, skin oils and light to different degrees. Exotic skin products from Hermès should always come with a CITES for transportation - some countries don't allow entry with an exotic skin unless it has a passport. 
Photo: sothebys.com
Aside from Hermès' signature leathers and skins, Kellys have been designed in numerous special editions throughout the years, such as the Picnic Kelly in Osier Wicker and leather; The Kelly Doll/Quelle Idole, a mini Kelly with a smiling face and moveable arms and legs; and the Himalayan Kelly, a rare crocodile skin edition that has previously been sold at auction for over $300,000.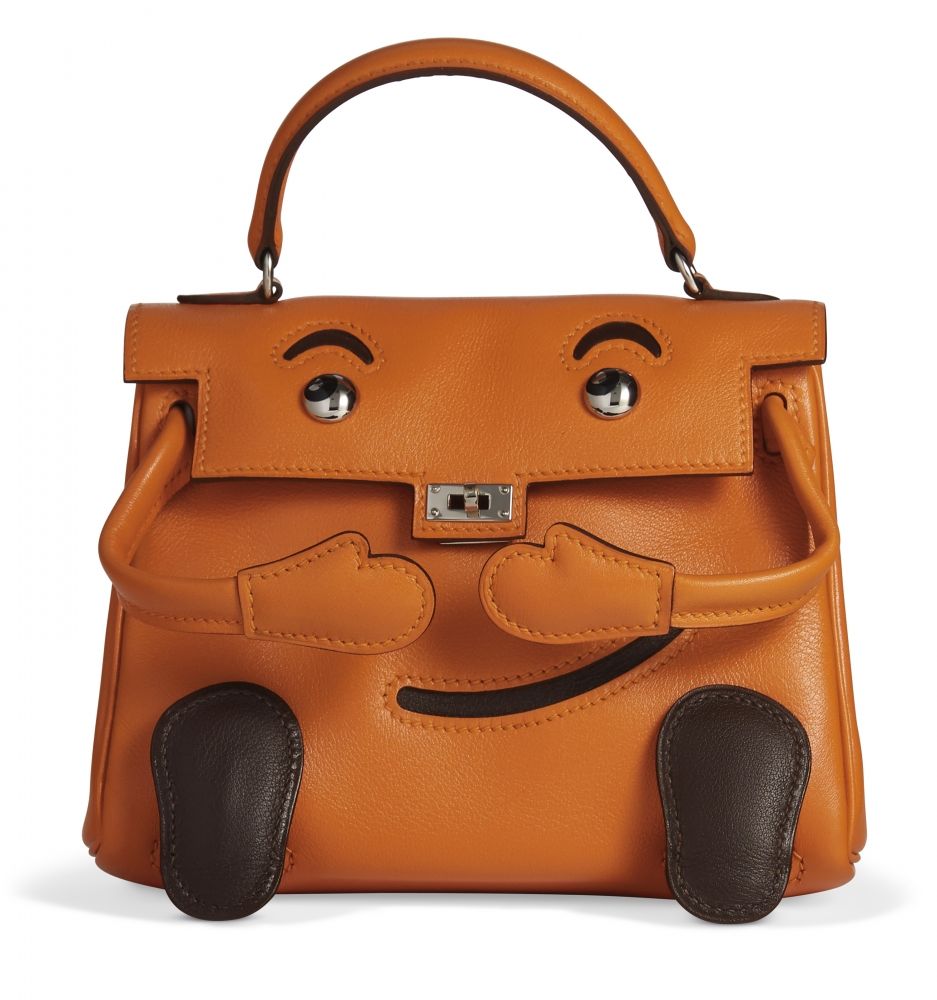 Photo: collectorsquare.com
Where to buy a Kelly
Like with Birkins, Hermès applies its scarcity technique to Kellys, meaning they make a limited quantity and don't have handbags readily available to buy in-store or online. Sales associates contact prospective buyers who have built relationships with the store about new bags that come in. These associates often don't know beforehand what style of bag they will receive and can't request specific bags for customers so waiting for your perfect Kelly requires patience and can sometimes take months or years. 
.
                                   Photo: Pinterest
Another way to buy a Kelly is to purchase a pre-owned bag through reputable resale platforms, auction houses or online second hand shops. This is usually more accessible, and an easier way to find a bag that fits your personal style and budget specifications. Hermès bags hold their value very well when cared for properly, and it's relatively easy to find pre-owned Kellys that look practically brand new. 
How to take care of your Kelly
Whether you plan to keep it for yourself or think you might want to resell it one day, caring for your Kelly is crucial. Our Hermès Kelly Bagpads are specifically designed to properly fill your Kelly and maintain its shape in the long term, which is particularly important for bags in supple leathers. For more tips on keeping your Kelly in mint condition, check out our ultimate guide for taking care of your luxury handbags, or see our blog on how to care for your Birkin, which includes advice specific to Hermès bags.