Chanel: The brand's most iconic handbags
Few bags are as timeless or instantly recognisable as a Chanel handbag. The historic accessory has been a staple of the elegant woman's wardrobe for over a century, since the luxury brand's inception in 1910. 
For those of us looking to buy one today, there are numerous styles to choose from, with new offerings and iterations added every season. If you're not sure where to start, below is a roundup of the most iconic bags in Chanel's extensive collection. 
Chanel 2.55
The 2.55 was originally released by Coco Chanel in 1955, as the first ever women's bag to come with a shoulder strap. The idea that women could have free use of their hands while carrying a handbag was radical at the time, and completely revolutionised women's bags. It was reissued by Karl Lagerfeld in 2005 to commemorate its 50th anniversary. One of Chanel's most understated bags, it comes with a "mademoiselle" turnlock instead of the now signature double C clasp and has a secret zip pocket where Coco Chanel reportedly kept letters from her lover. 
Chanel 2.55 bags are available in the following sizes:
2.55 Reissue 224 – L20 x H14.5 x D7.5 cm
2.55 Reissue 225 – L24 x H16 x D7 cm
2.55 Reissue 226 – L28 x H19.5 x D7 cm
2.55 Reissue 227 – L31.5 x H20 x D10 cm
2.55 Reissue 228 – L34.3 x H20 x D10 cm (discontinued)
2.55 Waist bag – L17 x H10 x D5 cm
Photo: designer-vintage.com
Chanel Classic 
When you think of a Chanel bag, the classic flap is most likely what comes to mind first. Also known as the 11.2, it comes in a huge variety of sizes and styles, as well as single and double flap versions, and has been enduringly popular for decades. Trends come and go, but this Chanel bag suits any outfit and will always be considered chic. The name says it all - it's fashion's most classic statement piece. In the words of Zoé Adjani, ''with all the history it carries inside, it represents more than a bag: it's like carrying Paris on your shoulder.''
Chanel Classic Flap bags are available in the following sizes:
Extra Mini - L17 x H10 x D7.5 cm
Mini Square - L17 × H13.5 × D8 cm
New Mini (Rectangle) - L20 x H13 x D5 cm
Small - L23.5 x H14.5 x D6.5 cm
Medium - L25.5 x H16 x D7.5 cm
Jumbo - L30 x H20 x D10 cm
Maxi - L34 x H23 x D10 cm
Photo: designer-vintage.com
Chanel Boy
The Boy, which was first launched by Karl Lagerfeld in 2011, is a modern, edgy take on the flap bag, with a slightly more rectangular, masculine look and a large link gourmette chain. Meant to give off an androgynous, rock n' roll spirit, the name is in reference to Coco Chanel's first love, Boy Capel. 
Chanel Boy bags are available in the following sizes:
Mini -  L15 x H9.5 x D7 cm
Small - L20 x H12 x D8 cm
Medium - L25 x H15 x D9 cm
New Medium - L28 x H18 x D9 cm
Large - L30 x H21 x D10 cm
Tote - L32 x H23 x D16.5 cm
Photo: vogue.co.uk
Chanel Gabrielle
Chanel's Gabrielle bag is named after Gabrielle (Coco) Chanel herself, and has a more casual, slouchy structure than many of Chanel's other bags, with more space too. Introduced during the brand's SS '17 show, it was the first new Chanel handbag to be released following the Boy in 2011, and was also its first unisex bag. It comes in a few different versions, including the classic hobo and a backpack. 
Chanel Gabrielle bags are available in the following sizes:
Hobo Small - L20 x H15 x D8 cm
Hobo Medium - L28 x H21 x D10 cm
Hobo Large - L31 x H25 x D10 cm
Backpack Small - L23 x H22 x D10 cm
Backpack Medium - L27.5 x H24 x D11 cm
Drawstring Bag - L22 x H20 x D16 cm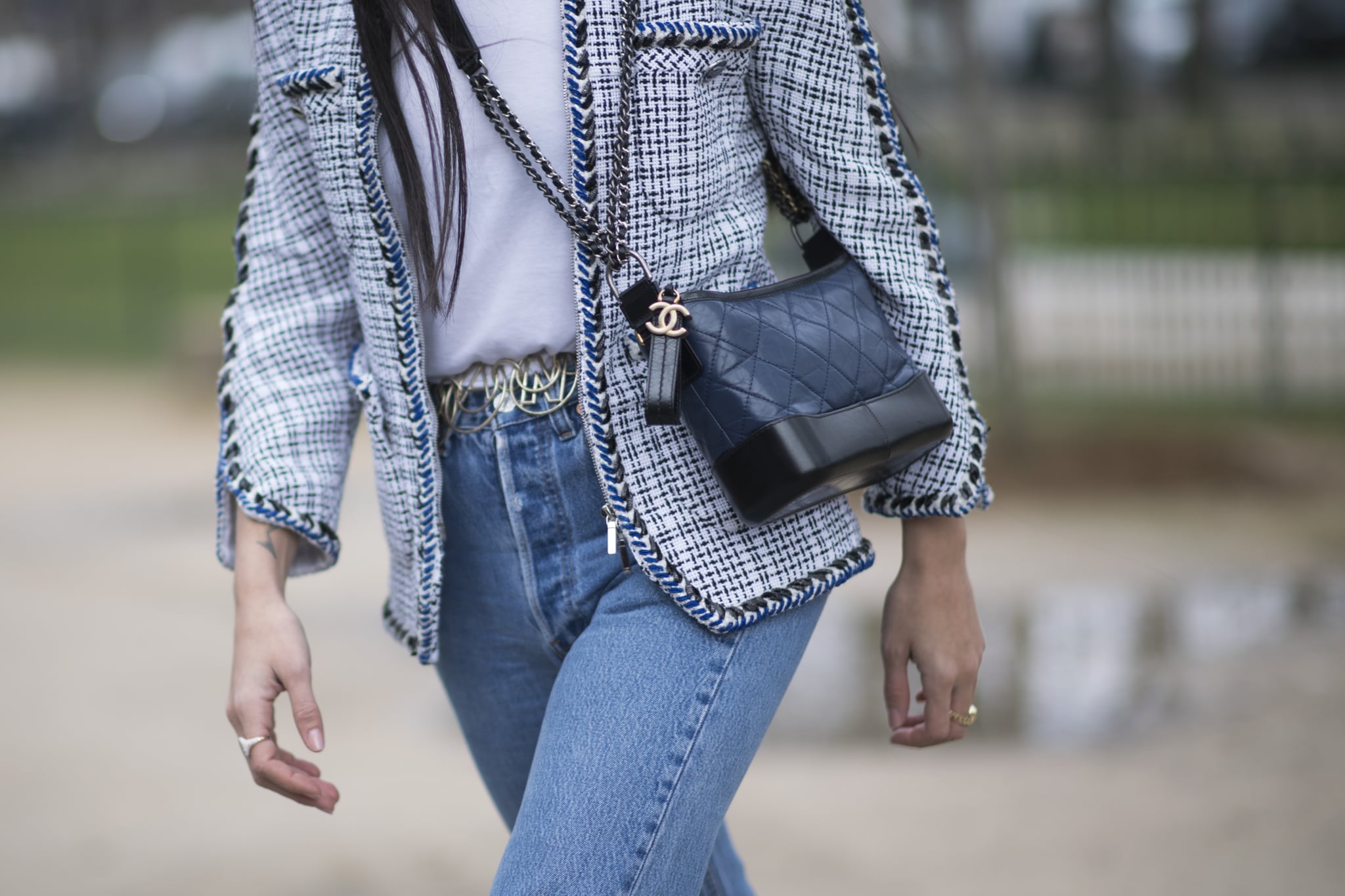 Photo: popsugar.com
Chanel 19
The Chanel 19 is the brand's newest bag, a re-imagining of the 2.55 and very clearly influenced by the 11.2. As the last major handbag designed by Karl Lagerfeld before his passing in 2019, it has become instantly iconic. It's plushier and more contemporary-looking than its predecessors, with a supple structure and a strap composed of three chunky chains. 
Chanel 19 bags are available in the following sizes:
19 Flap Waist Bag - L20 x H11 × D5.5 cm
19 Flap - L26 × H16 × D9 cm
19 Large Flap - L30 × H20 × D10 cm
19 Maxi Flap - L36 × H25 × D11 cm
Photo: designer-vintage.com 
Chanel Wallet On Chain
The WOC is technically a "small leather good" and not a handbag, but can be worn as one - over the shoulder or crossbody -  thanks to its versatile chain strap. More compact than other Chanel bags, it's both practical and beautiful, great for when you don't need much more than the essentials. Additionally, it's one of Chanel's most in-demand products due to its more accessible price point. 
Chanel WOC bags are available in the following sizes:
Timeless WOC - L19 x 12.5 x 4 cm
Timeless Clutch - L25 x H10 x D6 cm
Half Moon WOC - L25 x H12.5 x D7 cm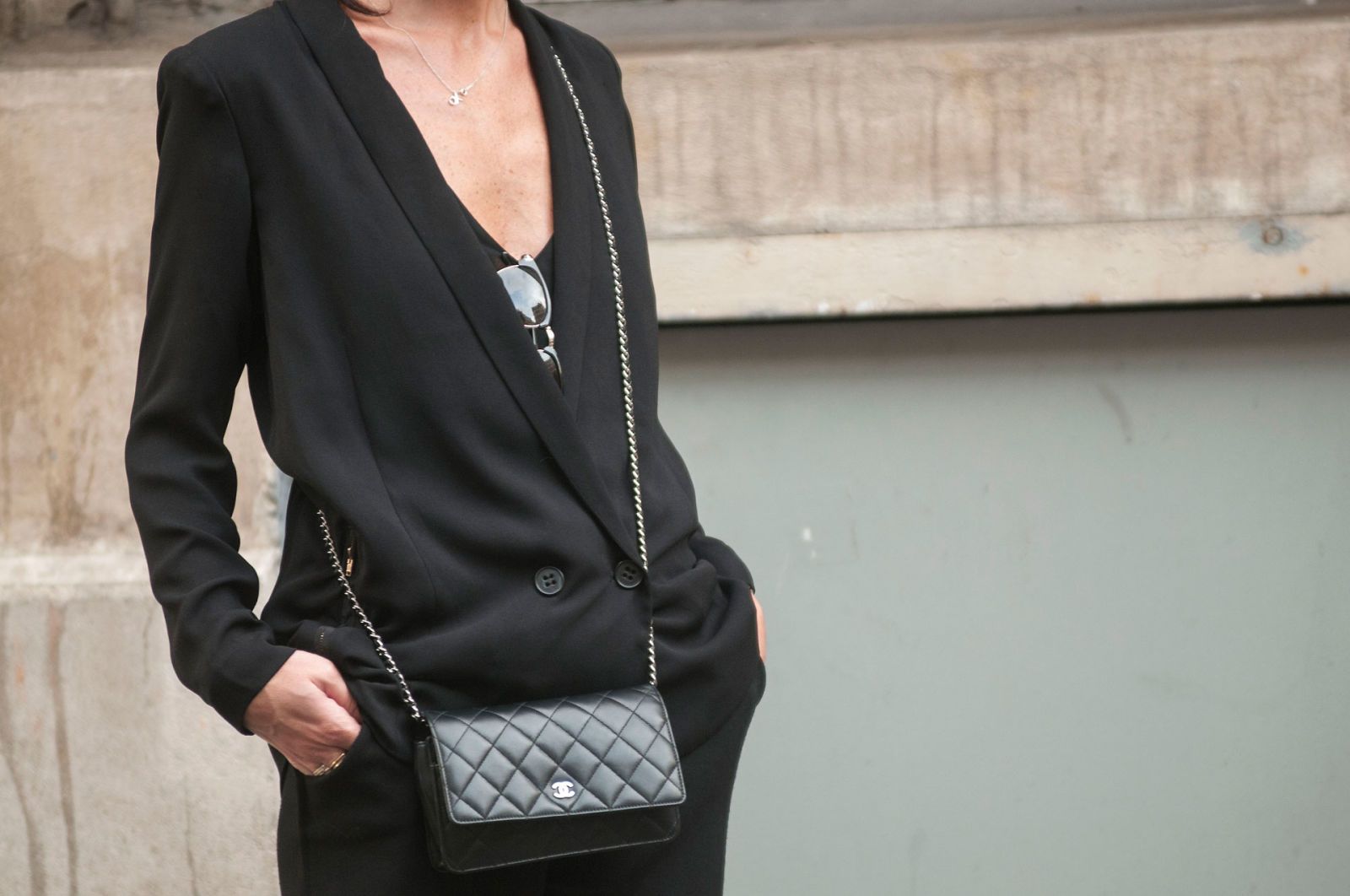 Photo: marieclaire.com
Chanel Grand Shopping Tote
Although discontinued since 2015, Chanel's Grand Shopping Tote was the one of the most popular handbags of the early 2000s, and continues to be a coveted vintage piece today. The roomiest of any Chanel bag, it was only ever available in classic quilted leather and either gold or silver hardware. Despite not having released a signature tote since, Chanel often features shoppers in their collections, such as this shearling lambskin shopping bag from their recent FW '21/'22 pre-collection. 
Chanel Shopping Tote bags are available in the following sizes:
PTT - L25.5 x H18 x D11.5 cm
PST - L25.5 x H24 x D9 cm
GST - L33 x H25.5 x D13.5 cm
Cerf Tote - L35.5 x H25.5 x 15 cm
Photo: luxurylifestylemag.co.uk
Chanel Camera bag
The Chanel camera bag was originally released by Coco Chanel in the 1980s, inspired by camera cases used by photographers and journalists. It has a box shape and zip closure, with lots of interior capacity. Although it has been periodically released as part of the brand's signature collection, camera bags aren't easy to get a hold of, making them a very sought-after vintage find. 
The Chanel Camera bag is available in different sizes depending on the year of release, here are a few examples:
2018-2019: L22 x H17 x D6 cm
2018: L23 x H15.5 x D7 cm and L18 x H11 x D6 cm (small)
1994: L29 x H21 x D6 cm
1991: L19 x H12.5 x D7.5 cm
Photo: themarketherald.com.au
Keeping your Chanel handbags properly filled in between uses is important in order to maintain the shape for longer, especially vintage bags with softer leather require some extra support. Bagpad provides the best option for this. Find all Chanel Bagpads here.