Iconic luxury bags and how to keep them in shape
Luxury bags you'll need to know about today
Accessories are crucial to rounding off your stylish outfits for this year. With that in mind, there are a number of staples that are considered a must-have for any fashionista or bag-lover. 
Whether you prefer a practical tote bag or you would rather have a simple clutch, here are some of the 'It' bags to look out for this season.
What is the meaning of an 'It' bag? Often a high-priced designer bag, it's an item that's typically become a popular best seller amongst the crowd. While these options are all considered It bags, they certainly showcase some of the styles you can expect to see showcased this autumn/winter.
We also added all the bag sizes if you'd like to purchase their customised BAGPAD and preserve the quality of these bags for many years to come.  
YSL - Solferino Cross-Body Bag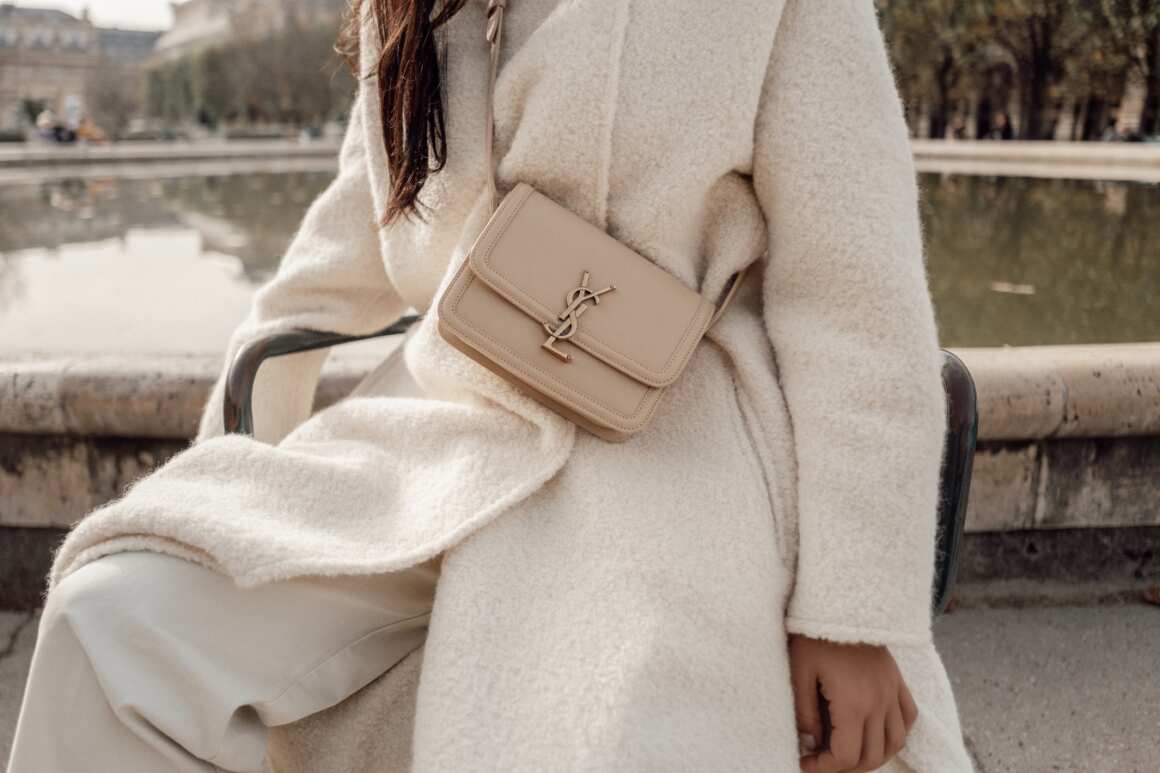 It's the gift that keeps on giving. Yves Saint Laurent's Solferino Cross-Body Bag is the perfect autumn/winter bag to kick off this list. A curved silhouette and gold YSL logo hardware make it a standout piece. 
Available in a range of delicious colour palettes, choose from decadent Dark Toffee to a rich Eros Red. With an adjustable shoulder strap, it's an elegant option for the wardrobe this season and beyond.
 Sizes: 
Medium: L23 x H16 x D6 cm / L9 x H6.2 x D2.3 in
Small: L18.5 x H14 x D6 cm / L7.3 x H5.5 x D2.4 in
Miu Miu - Wander Matelassé Regenerated Nylon Hobo Bag
If practicality is a buyer's choice when shopping for bags, the Miu Miu's Wander Matelassé Nylon Hobo Bag is a must.
This puffy shoulder bag is available in a range of bright shades, perfect for those autumn vibes. Made from regenerated nylon, produced from plastics salvaged from the ocean, it's the very definition of sustainable fashion.
Featuring a cute mini pouch that's removable, the Matelassé artistry is evident from the high-quality stitching and gold hardware to break up the bold colour.
This bag is available in two sizes:
L
29 x 
H
24 x 
D
9.5 cm / L11.4 x H9.5 x D3.7 in
Mini - L20 x H17 x D6 cm / L7.9 x H6.7 x D2.4 in
Bottega Veneta - Sardine Top Handle Bag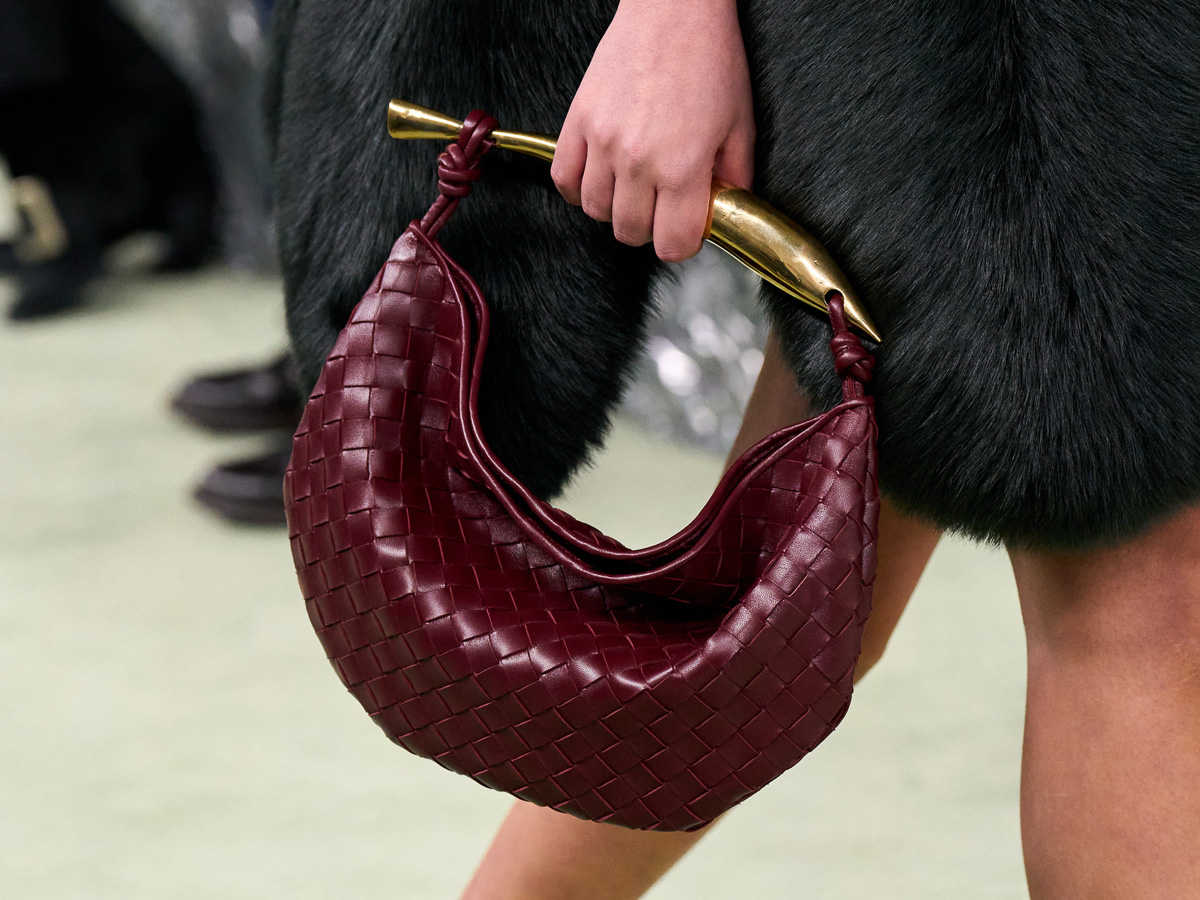 The woven leather design of this top handle bag from Bottega Veneta is the brand's signature style. Available in Bitter Chocolate, Barola, and Chalk, it's the perfect casual bag for coffee dates and lunchtime meetings.
Three rich colours complement the dry, autumnal weather - it's a bag that requires all three to be in your collection. The gold detailing of the sardine handle gives a quirky and dynamic finish to the bag.
As this article proves, you can never have too many bags. There are bountiful occasions and events where you'll need more than just a handful of bags at your disposal.
Measurements:
L33 x H20 x D4 cm / L13 x H7.9 x D1.6 in
Gucci - Jackie 1961 Bag 
Timeless in appearance, the Gucci Jackie 1961 bag is a beloved accessory and popular among social media's elite. The reintroduction of the Jackie bag is perfect for autumn, and its recognisable shape is enhanced with a detachable shoulder strap.
Providing a versatile range of looks from the top handle to shoulder and cross-body, it's a cherished piece for anyone who owns one.
Sizes:
Jackie 1961: L27.5 x H19 x D4 cm / L10.8 x H7.5 x D1.6 in
Medium: L35.5 x H25 x D4.5 cm / L14 x H9.8 x D1.8 in
Medium Tote: L30 x H24 x D12 cm / L11.8 x H9.4 x D4.7 in
Small: L28 x H19 x D4.5 cm / L11 x H7.5 x D1.8 in
Mini: L19 x H13 x D3 cm / L7.5 x H5.1 x D1.2 in
Balenciaga - Le Cagole Shoulder Bag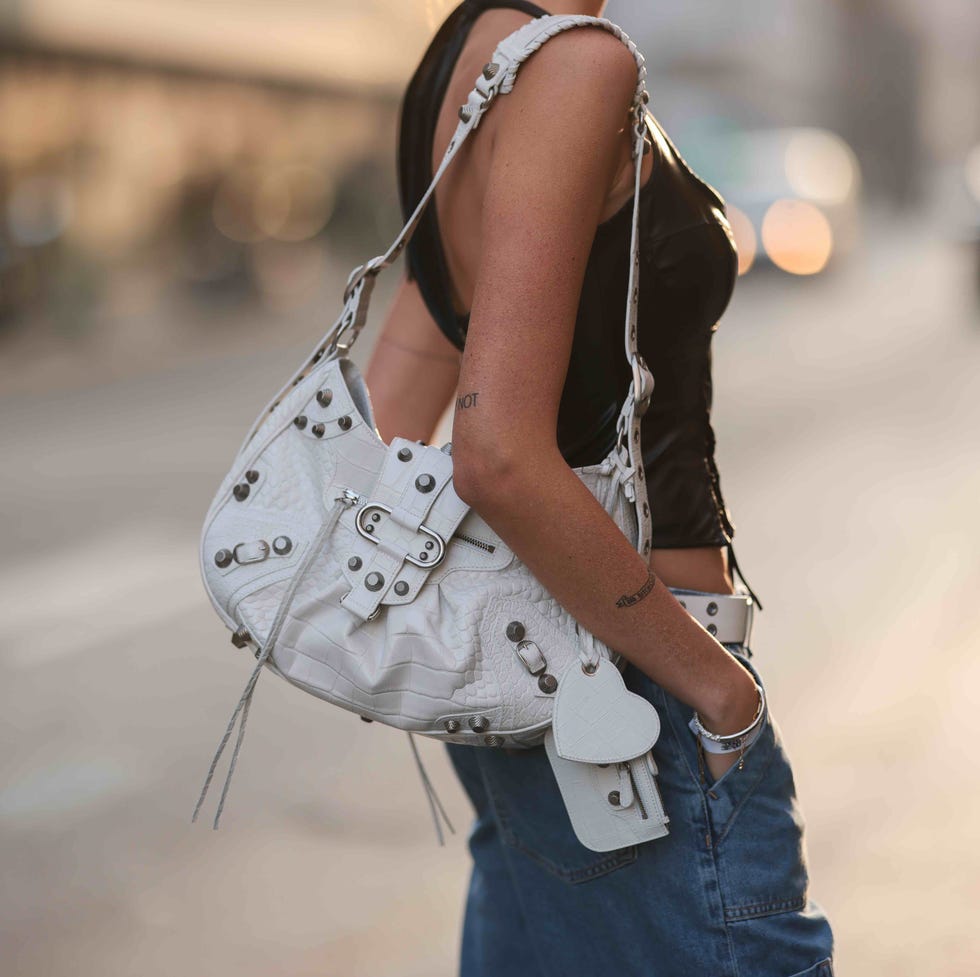 For shoulder bags, many celebrities and influencers alike are flocking to Balenciaga to get their hands on the Le Cagole shoulder bag - the brand's modern take on the classic City bag. With an adjustable shoulder strap, it's an effortless piece for day-to-day activities. Featuring aged gold hardware, crocodile embossed calfskin, and a leather braided shoulder pad - attention to detail is abundant. 
With a dainty, removable zipped pouch and heart mirror, it's a playful bag available in deep emerald green, classic black, and beige. The tone-on-tone Balenciaga logo embossed onto the mirror is a beautiful touch.
Sizes:
Small - L33 x H16 x D8.5 cm / L13 x H6.3 x W3.3 in
XS - L25.5 x H16 x D7 cm / L10.2 x H6.3 x D2.7 in
Mini - L21 x H13 x D4.5 cm / L8.2 x H5.1 x W1.7 in
Balenciaga - Hourglass Bag
Another bag from Balenciaga that has already proven to be this season's iconic party bag is the Hourglass with rhinestones. Seen on the likes of Kim Kardashian and Dua Lipa it's definitely a worthy investment for the festive season.
Designed by Demna Gvasalia, the Hourglass is yet another brilliant outcome of using silhouettes from the archives and combining them with a contemporary twist. The curved shape of the bag is a reference to Cristobal Balenciaga's signature Basque coats that nipped in at the waist, creating an hourglass silhouette. 
The Hourglass bag comes in 4 different sizes and various colours and materials from crocodile to denim. 

Sizes:
WOC: L19 x H12 x D5 cm / L7.6 x H4.7 x W1.9 in
Small - L23 x H15 x D10 cm / L9 x H5.9 x W3.9 in
XS - L19 x H13 x D8 cm / L7.4 x H5.1 x W3.1 in
Mini - L12 x H8 x D5.5 cm / L4.7 x H3.1 x W2.1 in 
Shop custom-made Bagpads for keeping for keeping your handbags in perfect shape here.